Periodontist: Steven Berkowitz, DDS
Periodontist in Miami Brickell Avenue
Dr. Steven Berkowitz is a Board Certified Periodontist specializing in treatment of gum disease, cosmetic gum treatments, and replacing missing teeth with dental implants. Dr. Berkowitz takes great pride in his work – and great care of his patients.
An alumnus of Towson University in Maryland, he obtained his Doctor of Dental Surgery degree from the University of Maryland at Baltimore. Dr. Berkowitz remained at UMB to pursue postgraduate studies in periodontics and earned a Master of Science. A member of the American Dental Association, the American Academy of Periodontics, and the Academy of Osseointegration, he has been honored with awards from the Northeast Society of Periodontics and the International College of Dentists. Dr. Berkowitz has lectured on the importance of periodontal health, cosmetic smile enhancement, and dental implants.
LANAP Laser Surgery (Alternative to traditional periodontal surgery) 
With the introduction of the PerioLase® MVP-7™and the LANAP® protocol (Laser Assisted New Attachment Procedure) we are able to remove and kill only the bacteria within the pockets of your gums while leaving the healthy tissue behind to reattach to the root surface! Why is this important? You can now enjoy less pain, less discomfort, less recession, less sensitivity, and much better and more predictable long-term results. LANAP® is the first and only FDA cleared laser protocol on the market and has been proven through extensive science and research studies in the United States and abroad. Quite simply it is the highest standard of care available in the world for the treatment of periodontal disease. Often we can save teeth that have previously been deemed hopeless by naturally regenerating the bone around the tooth.
If saving your teeth, reducing your pocket depths, and maintaining optimum periodontal health is important to you, this is a treatment that you must consider!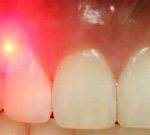 Beware of Phony Laser Treatments and False Advertisements!
LANAP® is the ONLY FDA cleared protocol for the treatment of periodontitis! It is also the ONLY laser with the science, research, and human histological studies to PROVE its claims! No matter what clinician you decide to get laser treatment from be sure that your doctors is LANAP® Certified and they are using the PerioLase® MVP-7™.
The Benefits of LANAP®

Faster Healing
LANAP® in Miami, FL is a minimally invasive procedure that allows the body to heal itself quickly

Less Discomfort
Due to the bio stimulation capabilities of the Periolase there is usually little to no discomfort for our patients. It is very rare to prescribe pain medication post op LANAP®.
Less Downtime
Most patients that opt for laser gum surgery can go straight back to their daily activities the same day!
Little to No Recession
Patients travel from across the state to have laser surgery because it does not lower the level of the gum line like traditional surgery.
Reduce Inflammation and Bleeding
The PerioLase® MVP-7™can remove 90% of the inflammation in your mouth after one visit. The laser specifically targets the bacteria in your mouth while leaving the healthy tissue intact.
Minimal Bleeding
With the LANAP® Protocol we are able to control the bleeding with the laser. This results in less bleeding and complications.
Saves Teeth!
Patient's number one reason to receive laser gum surgery in Miami, FL is because they want to save and keep their natural teeth.
Bone Regeneration
LANAP® is the only protocol scientifically proven to regenerate bone around teeth.
Very Safe
There are zero contraindications with this laser meaning it does not interfere with any disease or medication.
Dr. Berkowitz enjoys spending time with his wife, Risa, and their children. When he's not at the office, he can often be found out on the tennis court or off playing his guitar.
Dr Jaskiel work with Dr Berkowitz together as a close team approach in our office on Brickell Avenue Miami. Sometimes doing the procedures together. This allows the patient to get the full experience of a General Dentist who is experienced with surgery and a periodontal specialist who is an expert in his field. Conjointly it give the patient the highest chance of success and get outstanding results.